FAQS.
---
READ THIS FIRST!
Although there is a lot of words on this page,  you actually only need to know this —
If you want to do something at your wedding – do it.
If you do not want to do something at your wedding – don't do it.
It's as simple as that.  The only thing that HAS to happen to make your marriage legal in Australia, is the celebrant saying something along the lines of 'I am duly authorised by law to solemnise marriages' etc…  You then need to call upon two witnesses that you take the other to be your husband or wife.  That's it.  Seriously, that's it!  Now breathe easy, and have the day that you want to have, in the most awesome and amazing way that you want!
NOW READ ON IF YOU WISH…
The rest of this info is here so I can help out my present and future couples as best as I can.  But remember the one thing that overrides everything else on this page – do whatever you want to do.  It's very natural for people to have a lot of questions when they are getting married, it's not something that everyone does every day!  I hope that the info below is of some use to you, whether you chose to go ahead with my services or not.  If there is anything that you require further clarification on or that isn't covered below please don't hesitate to get in touch with me via my contact page.  If you'd prefer to chat on the phone, give me a call anytime on 0421 461 296 –  I'm more than happy to help, with no sales pitch, I promise.
Although this page tends to specifically mention 'bride & groom' – please note that I am 110% in favour of same sex marriage and have already photographed weddings with both two grooms and two brides.   The 'bride & groom' parts are just for wordings sake.  Please switch around as you see fit 🙂
SHORTCUTS JUST HERE :

Before the wedding
How much do you charge for weddings?
I shoot your whole wedding day for $4890. For this, you'll get exactly the same coverage that you see on most of my blogs here.  I don't time my coverage, that's confusing.  Put simply,  I'm there from when both parties are getting ready until formalities are done & everyone is drunk and tearing up some shapes on the dance floor. Because I'm pretty relaxed with my coverage, I've got a few 'fine print' things around that in regards to timing and travel, to make sure people don't take the piss out of me. But for example, if you're getting ready in The Yarra Valley and your reception & ceremony is all at the one venue, that's the coverage you'll get.  Most couples also buy a super rad art album and prints too.  Please email me via my contact page for my full pricing and info PDF.
Do you offer videography services?
No.  I only specialise in photography.  However, I can't stress the importance enough of choosing a videographer & photographer whose styles and ethics compliment each other.  You don't want this happening. (jokes)  But seriously, check out my recommended suppliers page for plenty of awesome options.  I've worked with all of them a lot, we have a lot of fun, have very similar styles and always have an end goal of creating amazing work for our couples together on a wedding day.  As I shoot majority of the day organically – having a videographer around who wants to keep stopping the day and setup every single shot, and make everything 'perfect' can really salt my game.  Besides, I reckon it's all the imperfect stuff, that actually makes everything perfect.  There's also a few videographers (who I won't list publicly) that I basically refuse to work with, because of ethics or because our styles are so misaligned.  So PLEASE ask me about videographers, if you're looking at booking someone not on my list.
I'm getting married interstate or in regional Victoria, are you happy to travel?
Yes!  I love being given the opportunity to jump on a plane or go on a road trip to capture a wedding!  I've been lucky enough to photograph a bunch of QLD & NSW weddings now.  Would love to visit WA or Tassie for a wedding sometime soon though !
Do you work on your own or with a second photographer as well?
Majority of the time I do work on my own.  I personally find this keeps things the most candid and unobtrusive.  Also, a lot of the time there is videographer (or two) at the wedding as well.  Therefore for 90% of weddings, having 4 cameras follow you all day can be pretty irritating & weird, for every party involved.
Having said that,  I like to take a lot of photos of guests on your wedding day, and if you are having a large amount of guests (150+) I would recommend hiring a second photographer to assist in covering this.  Also, if you are both getting ready a significant distance away from each other and/or the venue and it's not logistically possible for me to cover that, a second photographer (at a cost to you) may also be required.
However, I always recommend everyone getting ready as close to your wedding venue as you can.  From experience, spending a couple of hundred dollars on an Airbnb nearby makes a huge difference on the day, to help with keeping things as relaxed and stress free as possible.
Have you photographed at our venue before / will you visit location of our wedding if you haven't been there before?
As a creative person, I love going into a wedding without having any expectations or predisposed ideas.  As every wedding & couple is unique, I find that if anything is too pre-planned for the photos, that you may miss the opportunity to create real moments, that are yours, and not someone else's.  You also never know what the sun/weather/light is going to be doing at any time on any given day (especially in Melbourne!)  Somewhere you may have thought wouldn't work well for photos, may have this amazing window of light at a specific moment, and vice versa.  However, if it would make you more comfortable to do a site visit with me before your wedding, of course I would be happy to.
Can you temporarily hold our date whilst we decide?
Unfortunately not.  Wedding dates regularly book out on average 15 – 18 months in advance for photographers and I give priority and lock in those who pay a deposit first.  Even if you have met me or emailed me, and I was available at the time, that certainly doesn't mean that I will be forever available for your date.  The only way to be certain to book me in is to pay a deposit & sign a contract as soon as possible.
Can we meet you in person before the day?
Absolutely!  It' awesome to meet face to face prior to your wedding day.  It gives us a chance to get to know each other better, and importantly, makes sure we are the right fit for each other, as we'll be spending a lot of time together on the day.  There's a couple of great bars & cafes in the outer eastern suburbs of Melbourne I like to meet up at. We can then chat about your day over a coffee or beer. (depending on the time of day, haha)
If you would rather do everything via skype, phone or email, that's completely cool with me too.
Do you offer an engagement / pre wedding shoot?
Yes I do, these sessions are great because it gives both myself and you guys a chance to get to know each other a little more before the big day.  We usually take about 1 – 2 hours and the best time is to start around an hour or so before sunset.  You will get about 30 – 50 edited photos in high res, in an online gallery a couple of weeks after the shoot.  Some couples like to use these images for save the date cards, or even in a book for the guests to sign at the wedding.
How do we go about booking you in?
Simply pay a 1/3 deposit of your chosen option via bank deposit or credit card and I am officially yours for the day!  I also have an online booking form for you to eSign and fill in details.
On the day
In summary, my biggest pieces of advice I can give for you on the day are this … 
DON'T.  Complain. Sweat the small stuff.  Tell your suppliers how to do their job.  Wear clothes/shoes that you can't move in & can't wait to take off because you feel so uncomfortable in them.  Worry about your dress getting dirty.  Get ready miles and miles from your wedding venue. Worry if things don't quite go to plan.
DO.  Make enough time for everything.  Get ready close to your wedding venue. Be present.  Be thankful.  Tell your partner (and everyone around you) how much you love them.  Trust your suppliers (you hired them for a reason).  Wear clothes/shoes that make you feel amazing, that you can't wait to put on, and that you can easily move in (Your future self will thank you immensely if you can move freely on your wedding day). Let your bridal party also wear whatever the hell they want.  Give lots of hugs.  Give even more hugs.  Give high fives.  Kiss with your eyes closed.  Dance like it's the last time you'll ever use your feet.  Tell your partner how excited you are to marry them.  Tell them again. Enjoy every moment.  Soak it all in.  It's over in a blink.
How long do you usually spend at each getting ready location?
In short
Guys, about 40 mins.  Girls, about 60 mins.
This also might seem really obvious, but if you want genuine getting ready/preparation photos, please – DO NOT be completely ready when I arrive.  I'm not a huge fan of faking anything for the purpose of a photo.  For example, if I'm with the guys for 45 minutes, and I arrive and they're already completely suited up and ready to leave – it kind of defeats the purpose of 'getting ready' photos.
Also, you can get ready together.  The last 12 months or so in particular, as people move away from all these 'traditions' on a wedding day – I've seen this happen more and more, and it's rad.  I'll chat about this in more detail below though.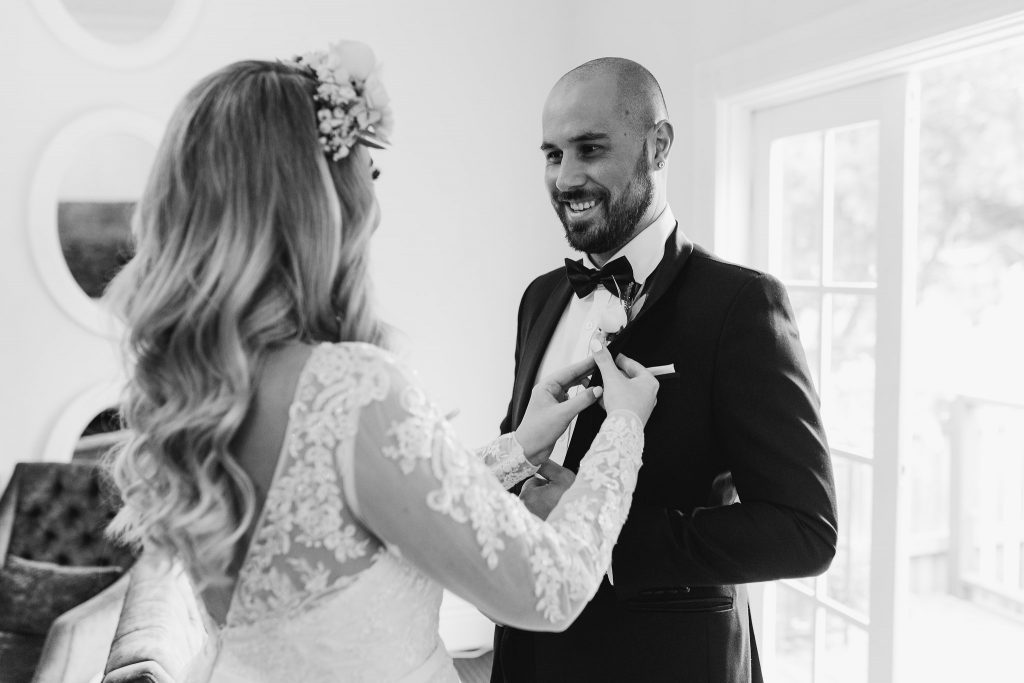 In long:
The Guys – Pretty much all the time, I will arrive to the guys first, as the girls are often working to a more strict time frame of hair and makeup and the guys can easily work around this.  I also don't need to be there for hours in the morning whilst the girls are getting their hair and makeup done.
With the guys before photos, there's plenty of options of what they can actually do here.  The 'obvious' or 'expected' thing for them to do, is actually get photos of them suiting up at this time.
This makes sense for a few reasons …
They're leaving to go to the ceremony or first look, not long after the photographer leaves them.
It's a cool day, so it's actually comfortable to be in a suit for a long period of time.
The parents are there and want a few formal/setup photos together after the lads have suited up.
You want photos of the guys suiting up. (That's the most obvious one, haha)
(So to summarise that part, if you want 'suiting up' photos, don't already be suited up when I get there, haha)
Depending on the location of where the guys are in relation to the girls property, and to the ceremony – this can inevitably leave them with a fair bit of downtime in their suits after I leave.
So there can also be times where it doesn't make much sense having the guys suit up, that early in the day …
It's summer.  Or it's a bloody hot day.  And it's bloody uncomfortable being in a suit longer than you need to.
The guys just un-suit again as soon as the photographer leaves them.
Because of travel or logistics, there's a lot of time between when the photographer leaves them, and when they're leaving to go to the ceremony
The guys would feel more comfortable & natural having photos taken of something else at that time of the day.  (Brewery, pool, backyard cricket, etc)
Also, there is going to be SO many photos of the guys in their suits for the rest of the day.  So the more & more weddings I shoot, especially summer weddings – it's becoming more common to just keep the photos super casual at this part of the day.  Such as them just hanging out in their casual clothes, meeting at a brewery or pub, meeting at a park or backyard for a game of cricket, using the pool if your AirBnb has one, etc … The guys are happier, the photos are actually more candid and organic, because that's what was happening anyway.  They weren't just 'suiting up because the photographer was there.'
I just think either way, it's nice to be able to hang out with the dudes at the start of the day, introduce myself (and my camera) and get some nice photos to 'begin the story' of the day.
Remembering, like everything suggested on this page – as long as you're happy and comfortable – I am.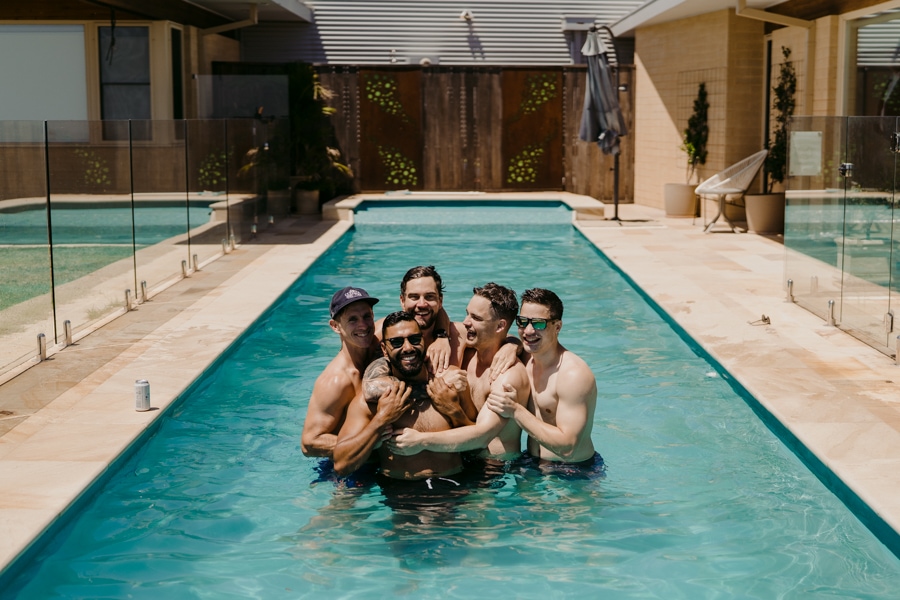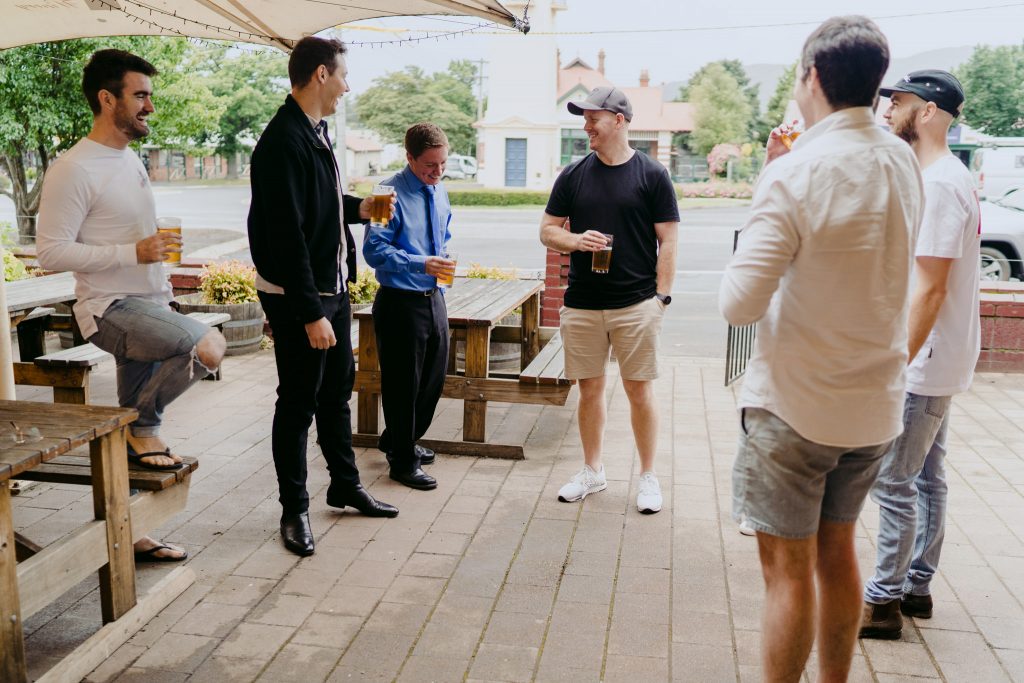 The Girls – I then arrive at the girls getting ready location and ideally the hair and makeup artist is finishing up about the same time I arrive.  It's fine to get a few photos of this at the start of the day for story telling purposes, but I don't need hundreds of makeup photos.  And I've never had any bride ever come back to me after a wedding and say 'Briggsy, I really wish I had more photos of me getting my makeup done', haha.  Also it's super important that you hire professional HMUA's who understand weddings and how important running to a timeline is.  I've had scenarios where hair/makeup is even still getting done when the ceremony is supposed to start, and this throws out the entire schedule for the day.  Big time.  And it's usually always your portrait time that will be the first to get cut down, or cut out completely – as to not interrupt the timings of reception meals etc.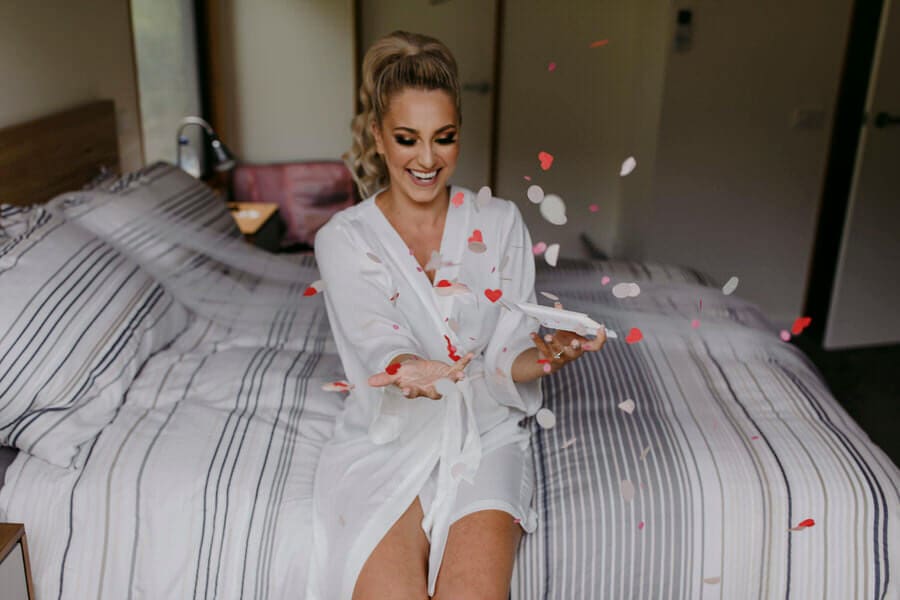 Usually when I arrive the girls will often just be wearing casual clothes, dressing gowns or similar.  I can then capture the girls hanging out like this and having a glass or two of bubbles as well.  Sometimes gifts are given during this time too.  Once the bridesmaids get dressed behind closed doors, ideally just one bridesmaid or Mum will then assist the bride in getting dressed.  Once she is comfortable with me/the camera being in the room (every brides comfort level varies greatly with this. If it's your jam, we can absolutely get a couple of tasteful, non seedy photos – that the groom will absolutely love of his bride, from this part of the day too), I'll then capture the candid moments of all the finishing touches of the bride being complete, dress being done up, shoes on, earrings on etc…   Depending on your logistics, it's sometimes nice to do a reveal to the bridesmaids (or for Dad) for that 'I now look like a bride/You now look like a bride!' moment.
A hot tip – if you have a bridal party, assign one of your bridesmaids to be like your 'personal assistant' on your wedding day.  So they should be across across all the schedule, they answer all your phone calls, they've got all the suppliers numbers etc … I've seen it all too often, when brides just get bombarded by 20 different questions from 10 different people whilst she's trying to get ready.  And she's as stressed as ever, before she's even arrived at the wedding venue.  Let someone else take this weight off your shoulders on the day.  And let yourself be ultra chill/zen.  Think of your wedding day like a 'spa' day.  So by the time you're ready to walk down the aisle, you're the most relaxed and happy you've ever been.
Another tip – buying a cheap arse bottle or two of bubbles to explode, makes for some pretty fun photos too!
Some other things to note about getting ready shots: If you want me to photograph it, it's a great idea to have all your accessories that you want photographed collected in the one place when I arrive. This includes, rings, jewellery, cologne, accessories, shoes, dress, etc ….  Some brides love these types of photos.  Others couldn't care less.  Either is fine by me, I'm there on the day to make you happy.  If it's important to you, I'll take these shots.  If it's not important to you, I'd much rather witness & photograph a beautiful moment between the bride and her best friend, or her mum, or Nana etc.  That's the real stuff.  They're the photos that people will cherish more, many years from now.
In photography, light is everything.  It's so important to be gathering/getting ready in nice, big, bright & naturally lit rooms.  In regards to mess, I'm actually a bit on the fence about it.  Perfect rooms look nice, but real and lived in looks just as nice too.  Just as long as there's plenty of natural light, we're good.
It's also worth considering who actually really needs to be there during your getting ready photos.  Preparation time can inevitably be stressful.  I've had the most chilled out brides in the world becoming ultra stressed during preparations, as a direct result of just being surrounded by too many (well meaning) people.  It's always quietly appreciated if you keep the crowds to a minimum and allow the hair/makeup, photographer/videographer to do the best work they can.  There's a direct correlation between how many shoes I see at the front door when I arrive at brides prep, to how stressed and/or relaxed the bride is on her wedding day.
Also if you like, remind your friends/parents to just chill out and do their thing.  All the cool shit that happens at a wedding, already happens.  I don't need to awkwardly make it happen.  They don't have to worry about looking at the camera all the time if you've booked a photographer who shoots majority of the day organically.  There's always that one bridesmaid who feels she needs to keep coming up with different photo ideas and poses.  I bet you already know who I'm talking about too.
Gifts ! If you're giving gifts to each other, your parents, your bridal parties … Try not to do that before I arrive if possible.  Some of the nicest, most genuine reactions and moments can happen during this time.  And it's so damn nice to capture it.  It's always a little shattering when I rock up, and I see there was a super heartfelt or handmade gift given to someone and it's all been said and done before I got to capture the persons reaction when opening it.
Pets !  If your dog/cat/bird isn't invited to the wedding, make sure they're at least around for the prep photos !
Location, Location, Location (for getting ready photos) –  Speaking from experience, if you are looking to keep things as relaxed and stress free as possible on your wedding day, the closer you are to your venue, the better it is for every party involved.  If you check out a website like AirBnb – you will find some absolutely amazing places, that will look beautiful in photos, and make for super convenient and chilled, pre-wedding preparations.  Unless you are 100% adamant that 'I must get ready at this house, which is a 90 minute drive from my ceremony venue in peak hour'.  I would highly recommend investing the extra couple of hundred dollars to be at a location close to your wedding venue.  Again, I've seen chilled brides become stressed on the day, because of the distance they have to travel to their ceremony location.  And if you're getting married somewhere like the Yarra Valley, why not rent a house, and make a whole weekend of it !  Get together there the day before, have an after party/BBQ/breakfast/etc at the place the day after too!
If you're getting ready further than 15km from your venue and/or each other – we can discuss extra travel costs if you're wanting photography coverage of your preparations.
I also prefer to leave the brides house with enough time, to have me arrive at your ceremony location about 30 minutes prior to the ceremony starting.
AT THE WEDDING … 
Do you take family photos?
Most definitely!  They just aren't usually seen on my Facebook page or blog posts for obvious reasons.  There's a couple of options of here.  If everyone is civil, comfortable around each other, no delicate dynamics etc – I've got a method in my head for these family photos that works 99% of the time, you don't need a list.
 I typically only include immediate family at this time, which I call – parents, siblings, (their partners and children, if applicable) and grandparents.  From experience, as soon as you involve all of the aunties, uncles and cousins at this time – the family photos can quickly become chaos.  And remember I'm always there for a decent amount of your reception too – so I can get any of those shots later in day.
However, if there is some 'delicate' dynamics; if  you could make a list of the specific combinations of family photos you want taken, that can help make things run a lot smoother, makes sure no one misses out and saves me putting my foot in it too.  I also ask if you could delegate one or two 'loud' family or bridal party members who know a majority of the people in the photos to assist me in 'rounding up the troops' – this can also save a lot of time.  You don't need to give me that list prior, but please just make sure one of those people has it on hand on the day.
To work out how long these might take; assign around 1 – 2 minutes for each small combination and 3+ minutes for larger groups.  This is dependant on the fact that we can actually find everyone too.  On average about 7-10 different combinations taking about 10 – 15 minutes is 'normal'.
95% of the time, these photos are done straight after the 'post ceremony congratulations', whilst the rest of the guests head to canapés.
What about the 'group photo' – the one where you stand up high and photograph every single guest at once ?
People still do them ?  Haha, jokes.  If the couple really want one, I'm obviously more than happy to !  In all honesty, they can be a bit of buzzkill though.  Guests are often wanting to just congratulate the bride and groom, or get to the bar, or do anything other than be in a photo where you can see half of their face.  In reality, the group photo can take about 5 – 10 mins to round everyone up.  (People don't listen, they go missing, they're usually too focused on finding the bar, etc, haha) So I think it's way nicer to use that time letting everyone hug/kiss you/congratulate you – without me interjecting.  I think photos of those moments will be treasured much longer anyway.  And you'll have way more rad individual photos of your guests, as opposed to just one big one.  Also some venues/wedding co-ordinators like to cut this time from the schedule, what !?  Some of the best photos of your guests happen during this time.  Do it. (if you want)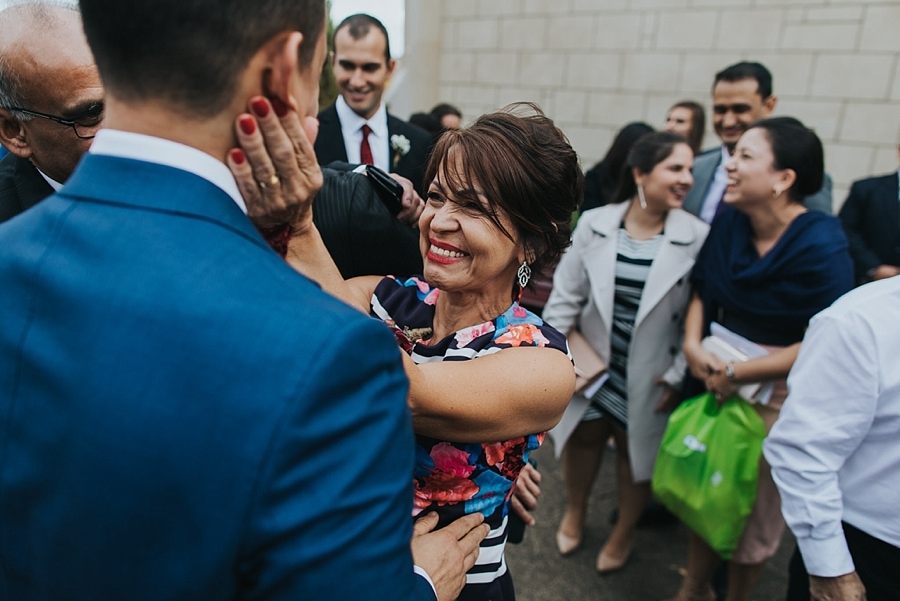 Can we give you a list or examples of specific photos we want taken?
Apart from the actual family photos, it's not really required.  As I capture the day organically in my own creative style, I wouldn't want staring at a big list of photos or poses you saw on Pinterest to detract from that.  That being said,  if there was a specific shot, person or location you wanted used, please certainly let me know!
Location Photos
How long do we need for the 'location/portrait' photos?  (the time that's usually between the ceremony and reception)
My personal preference, if everything is all at the same venue, is about 30-45 minutes.  That's perfect.  This is 30-45 minutes after all the post ceremony congratulations & after the family portraits.  Not including.  Otherwise, you'll end up with about 5 mins for couple portraits.  An example 'ideal' timeline (with plenty of added buffer) would look like the below –
Ceremony 4:30 – 5:00
Post Ceremony Congratulations –  5:00 – 5:15
Family Portraits – 5:15 – 5:30
Chill Out / Eat / Drink – 5:30 – 5:40
Bridal Party Portraits – 5:40 – 5:50
Couple Portraits – 5:50 – 6:20
Party Time ! – 6:30 onwards
Generally I'll do the photos with all of the bridal party for about 10 minutes, then let them go back to the party (they'll usually always want to anyway).  I'll then go for a walk with just the newlyweds for about 30 minutes (give or take) after that.  I find that lets the couple have what is usually their first time alone as husband and wife and that's where I can capture some beautiful, honest & real moments.
Note, that it is possible to do the couple portraits in 5 or 10 minutes – I've had to many times when schedules go to shit because of other things – celebrant not arriving on time, HMUA running late etc … But if you want relaxed photos of you guys being your in love selves, it's nice to have a bit more than 10 minutes.  And after we've got some 'safe shots', that then sometimes allows me some time to try some fun, new creative things too.
Anything significantly shorter than 30 minutes for bridal party/couple portraits can feel a bit rushed.  Anything in excess of 60 minutes is not required, unless we're accounting for car travel to different locations. (two different places is also more than enough)  Because I setup or pre-plan very few photos, and I capture most things candidly/on the fly; my style of photography is simply not suited to portrait sessions that go on for hours.  If you happen to have allocated well over an hour for whatever reason – we're likely just to end up chilling out at a cafe or bar somewhere if possible.  Or going back to canapés!
A wedding is a big, awesome party where you should be spending as much time as you can celebrating with each other, your family, your friends etc.  It should never become a photoshoot, where you just so happen to be getting married!
What is a first look?
As first looks are becoming so common these days at weddings, I'm going to give a massive amount of info below about them. However, the biggest thing I've found over the years in regards to first looks is this –
If your wedding is in Melbourne from October – March, most of the time you don't need to do a first look.  There's plenty of time (and light!) post ceremony for couple photos. If you wedding is from April – September, I would strongly consider doing a first look or planning your ceremony early enough in the day to ensure there is enough time (and light!) after your ceremony for couple photos.
Heaps more first look detail now …

If you are concerned about time – either not having enough of it, or leaving your guests waiting, missing out on your own party, or simply just want to spend more time with each other on your wedding day – another option to consider is to do a 'first look'.
This is where you both see each other and do majority of these 'location/portrait' photos before the ceremony.  Most people's first reaction is to baulk at this idea when they first hear about it, as many of us are almost 'pre-programmed' to believe that this is against some kind of religion or tradition.
However, this is becoming a much more common option in Australia (it has been in America for some time) these days as more and more couples move away from the 'traditional' flow of a wedding day.
Some positives in doing this that actually have nothing at all to do with photography are –
You get to spend more time with each other (and alone time) on the day
You get to spend more time with your family and friends on the day.  As soon as the ceremony is done, it's party time!  The location photos have already been done.  'First look couples' usually always just join their guests for canapés straight after the ceremony, and the couple, bridal party and guests always really love that.
It will take away a lot of the 'nervousness' before the ceremony and you get to truly relax, enjoy it and be more present in the moment.  Check out my celebrant mate, Josh Withers blog – First Look Photos:  The Express Train to Calm Town.   It's awesome.
The first time you see each other as bride and groom, is your moment.  It's a private moment that belongs to the two of you forever.  No one else.
The day is so surreal, such a blur and completely flies by – I can tell you from experience being on the other side of the camera at my own wedding.  I'm so glad that we did a first look and extended the day with each other.
When you have a first look, you still absolutely get the chance to make a moment of the first time you see each as bride and groom for the first time, just a more private moment, see Michele & Aaron as an example below.  And the first look, because it is more private – the emotions are usually a lot more heightened.
Where do we do the first look, will our guests see us before the ceremony too?
Most of the time, the first look is done at the same venue where your wedding will be.  For example is your ceremony is at 5:00pm, we would do the first look photos from 3:30 – 4:20/4:30pm.   Therefore, the girls usually don't want to be seen by the guests, so they will go and 'hide' and freshen up in a bridal suite or the likes somewhere, before the ceremony begins.  The dudes will then greet the guests as they start arriving.
Also, the bridal party photos are usually always done during this first look time too.  If the couple wants to, sometimes the bridal party witness the actual first look moment, either behind me out of the shot, or from a distance.  Sometimes the couple prefer to do it in private, and we can collect the bridal party a bit later during this time.
Remember there is no rules with this, the above is just 'normally' what is done with a first look.  You can both get ready together, you can both greet the guests together at the start of the ceremony, you can both walk down the aisle together etc …
Having said all that, I'm still all for traditions.  But just make sure, that you are doing something on your wedding day for the two of you, and that's it.  Not for anyone else, and not for any traditions, but that it's what you actually want to do, and you will have the most amazing day!
I'm still on the fence about a first look. I love all the positives you listed above, but is there anything 'tricky' about doing a first look?
Since the end of 2016, probably about half the weddings I've done – the couple choses to do a first look.  So I've certainly done a few!  The pros usually outweigh the cons, but I have found a few little tricky things in all the first looks I've done, if you're looking for honest feedback.
If you're getting married the warmer months / daylight savings, you need to prepare for the possibility of it being 30+ degrees.  So doing portraits before the ceremony outside in the mid afternoon sun during this time, is absolutely do-able, but it can be a little uncomfortable for everyone involved.  Also the light is simply not going to be as nice as it would be later in the day.
If we're doing the portraits at your wedding venue, there's going to be early arriving guests.  Every time.  Aunty Shirl will be there with her iPad in it's bright cover, ready to snap away at least an hour early.  As mentioned above, we try and wrap the portraits up long before the majority of guests arrive – but being in possible sight of some of the early ones – may or may not bother some couples.  Depending on what kind of person you are; I've also seen quite a few couples unfortunately get caught up in logistics/setting up etc during the first look, because we're around the venue and everything happening.  Thus resulting in unwanted stress and less portraits.  If you're a chilled out,  let the relevant people do their job kind of person – then this is not an issue.  We've also got the option of doing the first look and portraits external to your wedding venue, therefore the above couple of things are also a non issue.  But most of the time, couples do want their portraits at their wedding venue, because they fell in love with the landscape and how it looks – that's one of the reasons they're getting married there after all !
Again, depending on the type of person you are – some brides (sometimes because of the bridesmaids if I'm being honest) stress out big time about getting their dress dirty before the ceremony.  This can then hinder their enjoyment of the first look and portraits after.  I'm not saying that happens very much, but I have seen it enough times for me to make mention of it here.  Personally, I think if you're dress doesn't get dirty enough, you didn't have enough fun !  And that's what dry cleaners are for anyway.  But,I get why you'd want to keep it clean pre-ceremony.  There's that.  They're pretty minor points, but worth bringing up.  Ultimately doing a first look comes down to making the day your own and doing what you want to do.  That's the most important part.
But other factors, like the time of year, the amount of time your venue has allocated between the ceremony and reception may be contributing factors as well.  For example, if your ceremony is in Melbourne at 4:30pm in June and you want natural light portraits.  As it's going to be pretty much dark by the time your ceremony is done,  a first look is much more inevitable. Or, if your venue has allocated a ceremony start time of 5:30pm and a reception start time of 6:30pm, this gives us about 10 minutes for couple photos.  Do-able.  But pretty rushed.  So again, first looks usually happen in this case too.   If you're unsure, just call or email me and we can discuss the timing/logistics of your day in more detail.
Wowsers, that was a lot of first look info!  Just give me the short long!
Consider doing a first look if – you answer 'yes' to most of these…
Your wedding is not during daylight savings (ie, winter) and we're pushed for time and/or natural light, post ceremony for photos.
You're both super relaxed people.
You're getting ready together or on the same property.
You don't care about some guests possibly seeing you before the ceremony.
You don't want to be away from any of your guests at all after the ceremony.
Possibly don't worry about doing a first look if – you answer 'yes' to most of these..
Your wedding is during daylight savings (ie, summer) and there's plenty of time post ceremony for photos.
If one or both of you, is naturally quite an anxious or nervous person.
You're going to be apart from each other the night before the wedding & the morning of.
You're traditional at heart.
You're worried about some guests possibly seeing you before the ceremony.
What is the best time of day for the location photos?
The best time to avoid is when the sun is at it's highest in the sky in the middle of the day / early afternoon.  You will have problems with harsh light, unwanted shadows, heat  & people squinting etc.   The 'magic hour' (1 hour before sunset) is the greatest time of the day for wedding photography/portraits in my opinion.  Click here to check out sunset times in Melbourne.  We certainly don't have to plan all of your location photos around this time, that's not usually possible.  Unless you're getting married in the cooler months, when we don't have daylight savings.
During the warmer months/daylight savings – if the couple wants to, I'll head outside with just them during their reception for 10 minutes to capture some beautiful sunset photos.  As always, we can play that time by ear.  If we're in Melbourne/Victoria – the weather can do anything!  Sometimes we don't even get a sunset.  But if we do, I'd much prefer to take photos for 10 minutes in amazing sunset light, than 60 minutes in the middle of the day in summer.
It's inevitable that meals/speeches etc can sometimes occur during this sunset time also.  I'll discuss with you, and give you a heads up, closer to your date – the sunset time on your particular day.  And the possibility that we may leave the reception for 10 minutes during this time, so we can try our best to work meals / speeches times around this.   Trust me, you'll remember and appreciate your sunset photos for a lot longer than worrying about if your speeches ran slightly late, or if your entree was a little bit cold.
Also, if your wedding is in summer and I'm pinching you for photos a couple of hours into your reception – a little more champagne has probably been consumed by then – allowing you to lose your inhibitions a touch more.  So much fun !
What happens if it rains on our wedding day?
That's no problems at all!  As long as you are willing to get out the umbrellas and have a bit of fun, we will still get magic photos.  I would much rather take photos in the pouring rain as opposed to a blaring harsh midday sun.  Cloud and rain can create much more epic and cinematic backdrops as well.
Also, don't stress.  Most of my weddings are in Melbourne/Victoria, not Far North Queensland.  I'm not saying it won't happen, but it's pretty rare that we get a day here that rains torrentially for the entire day.  Even if it does rain on your wedding day.  There is usually always going to be windows of time where we an sneak outside for few quick portraits without getting drenched.
Both of us / one of us don't really like posing in front of the camera, will that be a problem?
Not at all, does anyone like posing?!   This is a very common statement to hear as most people aren't naturally professional models or used to having a camera pointed at them for hours.   I like to capture all the smiles, laughs, happy tears etc of your day in the most candid and honest way possible.  They are all the best bits anyway.
When it comes time for the portrait session, I believe that there should be enough direction given so that you don't feel lost in what you are doing.  But at the same time, enough space given, to allow you to relax and be yourselves.  I am most interested in capturing the two of you as honest and as raw as possible.  It is my number one priority when photographing a wedding, that when you look back on your wedding photos, you should remember yourselves, and how you felt on your day – not what someone was telling you do the whole time.  Therefore, your wedding photos will always be timeless, when you look back at them for the first time, or on your 50th wedding anniversary.
A couple of tips for the 'portrait session'… It's super important to acknowledge that it's usually going to be a little bit awkward at first – most people have never had photos taken in a situation like this before.  But you'll get into it pretty quickly.  The easiest couples to photograph are the ones who forget about the camera the quickest and just can't get enough of each other during this time.  Hug heaps, hold hands, get amongst each other & don't worry about getting your dress dirty and just enjoy it.  That will show up in your portraits.  You'll get out of them, what you put into them.  If you're stressed, not that excited about the fact that you just got married, worried about getting your dress dirty, can't be bothered spending 30 minutes with your new partner and just want to 'get this over and done with and sink piss with the boys'. (A quote that I've actually heard more than once unfortunately) Well, there's fair chance that's going to show up in your portraits too.  There's only so much magic I can wrangle.
It's also important to remember that it's not all about the photos at this time.  You guys just got married !  That's fucking awesome !  Soak it up, chill out, enjoy the time together and get amongst each other.  Awesome portraits will easily then follow.
The Ceremony
I hear lots of people talking about an unplugged ceremony, what is this?
The short long – it's asking your guests not to take any photos during the ceremony.
I'm not going to be one 'those photographers' and strictly enforce this on all of my couples.  And I'm not going to publicly post (the many) specific ceremony photos of mine that have been ruined as a result of guests cameras & phones.  I find that insulting to past couples from those weddings, when photographers do that.
If you want your guests to take photos during ceremony, by all means, let them take photos!  I'm never going to stop them or ask them to move.  But let me say this…
Many of the weddings I photograph, are non-religious ceremonies, in gardens, wineries etc … They usually go for about 15 -20 minutes on average.  So, an unplugged ceremony isn't about us wedding photographers being righteous, or arrogant.  But it's more about a couple saying to their very closest friends and family – "Hey guys, this 15 minutes is really really damn important to us, it's probably one of the most important things we've done in our lives to date.  So for the next 15 minutes, can we pretty please just have your undivided attention to enjoy, and be involved in this special moment with us, and not be distracted by which Instragram filter you are going to use."
One of my good celebrant friends Josh, goes into this in more detail, and nails it, in this blog here.  Please check it out if you're still up in the air.

To recap, if you want your guests to take photos during ceremony, by all means, let them take photos!  It's your wedding!  And looking at it from a completely different angle, having people take photos on iPhones, iPads etc throughout your wedding & ceremony can actually add a really interesting element to my photography.  It also adds an instant 'date stamp' to the photos.  Imagine showing kids your wedding album in 50 years and there is a photo of someone taking a photo on an iPad!  Imagine how interested and funny they are going to think that is – "Wow!  What is that thing all the aunties are taking photos on?!"…  "Oh, that's just what everyone did back in 2019 for some reason…"
The Celebrant
If you're reading this, and haven't booked a celebrant yet.  PLEASE do not underestimate how important a good celebrant is to your wedding.  The wedding ceremony should be the main event at your wedding, it's the reason why is everyone is there! You're not inviting your guests to the reception and making a side note saying – "if you're available two hours earlier, we're doing this shitty thing out on the grass".  I've seen some fantastic ceremonies in my time, and unfortunately some not so fantastic ones – forgotten couples names, broken PA systems, inappropriate jokes & all kinds of weird and awkward things! … Check out my suppliers page for a bunch of rad ones.  Nothing weird or awkward there.  I promise.
Traditions
There is a lot of traditions that people partake in during a wedding a ceremony.  And sometimes, they mean nothing to the couple, it's just because they think 'isn't that what we have to do at a wedding??'  If you chose a good celebrant, they'll go over this stuff in more detail with you.  But I encourage all my couples to think about traditions, and question them.  Not to intentionally be different, or annoying.  But to make sure that their wedding day, is a unique celebration of the two of them, that's the most important part.  I link to celebrant Josh Withers a lot, but his unique blogs on weddings are amazing.  Such as the 'controversial' line in this blog – "Walk down the aisle together, or at least both have an entry. The idea of a groom being at the end of the aisle waiting for his bride is lovely, but echoes years of sexist woman-gifting."  (it makes more sense when you read the whole thing)
Canapés
Spending more time with your guests?  Yes please!
Whether you go down the path of having a first look or not, I'm a MASSIVE advocate of enabling couples to spend as much time with their guests as possible.  I'm of the school of thought, that if you don't want to see, or spend time with your guests, why didn't you just elope?
If we do a first look – Brilliant.  The ceremony is done and you get to hang out with your guests straight away.  We'll fit in the family portraits sometime during canapés too.  If you have live music, you also get to hear and enjoy the killer live band/musician that you spent money on. Woo!
If you don't do a first look – no stress at all either.  I understand it's not for everyone.  We'll usually try get the family formals done straight away.  If the venue and timing is cool with it, I then like to let the couple and bridal party chill out for 5 and 10 minutes and have a beer/wine/bite to eat before we go off for photos.  If we can do this, I honestly believe it makes a big difference in keeping things relaxed and not rushed for these shots.  I'll then do the couple/bridal party photos, and I'll try my very best to keep this chilled and fun.  The 30 – 45 minutes we're doing these photos, should absolutely be one of the best parts of the day!  Not one of the worst!  I'll also often try to get everyone back to the canapés before the reception time.  This doesn't always happen, as timings can often blow out, but please know, it's what I'm usually aiming for.
The Reception
Reception Entrances …
Like a bit of this page, it's totally my opinion – but I personally find 'reception entrances' to be a little strange.  And they can be a fair bit of a time killer too.
A lot of venues still push this 'reception introduction' – so most couples think it's something that they just 'have' to do.  But at my own wedding, I was of the opinion – "that if there is someone who is in this room who doesn't know I am, that I have to be introduced to, then we have a problem here".  So we just walked in casually with our guests from canapés to reception.
The reason I say it's a time killer, is this;  Let's say your reception starts at 6:30pm.  The venue organiser will then push to have the bridal party and couple back in the 'bridal suite' by about 6:20pm, whilst they usher all the guests inside.  I've been to a lot of weddings, I can tell you this always takes longer than expected.  Let's say they'll be seated by about 6:40.  You then get introduced after the MC's opening spiel.  By the time you and the bridal party are seated, that's going to be closer to 6:50.  You've then just blitzed, on average, about 30 minutes of precious reception time away from your guests on your wedding day, for the sake of an introduction.
Don't do an introduction and just meander in casually with your guests, and you then take this 30 minutes back into your own hands.
Turn the coin around.  That is 100% my opinion.  If you want to do an introduction, because you have a special song to play, or you want that rockstar moment because it's your wedding day, then by all means.  DO IT!  It's your wedding day!  Or skip the introductions for the whole bridal party, and just have an intro for the two of you. Make sure you just do what makes you happy 🙂
Can you stay until the end of the reception?
I have two hours included in my contract and pricing as I have found this is usually always enough time to get all the 'formalities' such as the first dance, speeches, cake cut etc (that's if you chose to do all those things) – I'll then spend a bit of time tearing up some shapes on the dance floor with everyone if they are up and about.  From experience, it's about the 2 hour mark that the drinks are well and truly flowing and guests start to get a little loose.  There is dozens of people with their own cameras out by this stage capturing the night themselves anyway.  If formalities run a bit over two hours, I'm not going to be sitting there tapping my watch, I'll stick around as I'm not super strict with that time.  However, if you want me there to the end, or you pre-empt some formalities to be significantly past the two hour mark, I am happy to talk about the cost involved with that.
If you are covering some of the reception, do we need to cater for you?
It's industry standard for me to be fed at the reception and I really do appreciate a meal and quick sit down.  I'm usually seated with other suppliers that attend the reception such as DJ, band, video guy etc.
This is also pretty important – and I love venues that get it (some just don't unfortunately)  But I also sincerely appreciate it when I'm fed at the same time as the bridal party.  The only time of the day I don't take photos is during meals; taking photos when people are eating?  That's weird, haha.
So if I can be fed at the start, not 30 minutes after the bridal party, it makes sure I'm fed and watered and ready to photograph any events that occur whilst you guys are done, but the last people might still be eating.  This could be your first dance, speeches, kick arse sunset photos etc …  There's nothing more annoying then being fed a significant amount of time after every guest, (which I'm not photographing because they're eating)  then by the time I get my main meal and have one bite, the next formality is announced and I've got to get back up to photograph that.  My food is then taken away when I'm gone, because the venue thought I didn't want it.  (This still happens about 2 weddings out of 10, argh!)
In summary, feed me at the same time as the bridal party – you'll have a happy photographer, and you'll also get more photos, because I'm not just sitting around waiting for a meal at this time.  Because as soon as you guys are up and about after your meals, so am I.
I don't have any dietary requirements either.
Music.
I've played guitar and in bands ever since I was 12 years old.  I still do.   Music is so important to me.  As cheesy as it sounds, I honestly believe that it's the soundtrack to your life.  I think some people really underestimate the importance of music to a celebration.  Again, I honestly believe that the right (or wrong) music can sometimes, make or break the vibe of a wedding reception.  Please check out my friends on my recommended suppliers page for a bunch of different amazing artists.   Remember, I'm not usually there for the entire reception and no one wants to be listening to UB40's love ballads until 11pm.  So a rad band or DJ will get some crackers on early in the night, thus resulting in a killer dance floor.  Therefore, fun dance floor photos !
After the wedding
In what format will I receive the images?
Your images will be uploaded to a beautiful, user friendly online gallery for you and your family to view and download and share your images as you please.  Your images will also be posted to you in high resolution, non watermarked JPEG files on a custom wooden USB stick.  If you are getting an album, it will be received a few weeks after the album proofing is complete.
Will you supply every single photo you take?
I do not supply unedited 'RAW' photos of every photo taken during the day.  To me, the actual sorting and editing process is just as much a part of the job as the actual wedding shoot itself, which all makes for the final product in my own unique style that you will receive. The discarded photos are not usually worth keeping anyway; test shots, people blinking etc… Whilst I have complete confidence in the quality of my images taken straight off the camera; would you ask your waiter for raw chicken at a restaurant?
How many photos will we receive?
You will receive a minimum of 400 edited photos, but sometimes up to 900 or so.  This amount varies depending on each unique day, the amount of time actually covered, the weather, what was happening on the day, amount of guests, how good your friends are at dancing etc etc …
How long will it be before we see any of our photos?
I will always send you a couple of edited 'teaser'/'preview' photos the next day after your wedding so you've got something to view and share straight away.  On average, the rest of the edited photos will be supplied in an online gallery around 4 weeks after your wedding date.  This depends on the time year also, if you are getting married in peak wedding season (October – April) – they may be longer.  If you are getting married in winter when there's less weddings, probably a fair bit quicker.
What do you do to the photos when you edit them?
My editing process is reasonably light and not over the top like some photographers I have seen.  I don't like that vibe of heavily re-touched images that change the way people or the day actually looked.  Colours are corrected and adjusted to maintain a consistent feel throughout all of your photos taken during the day.  Some images I might intentionally under (or occasionally over) expose in camera, because I know what kind of feel & detail this can give me in post production (see below).  All your images are treated individually and given a bit of that extra 'pop' using Lightroom.

Also, expect roughly 20-30% of your wedding photos to be delivered in black and white.  Copies of every image in both colour and black and white are not supplied.
Can you photoshop this, or that?
For the large majority of my photos, I don't actually even use photoshop.  If there is something that would naturally dissipate with time, such as a pimple or blemish, of course I can remove that in the closer up photos if you like.  However, in regards to removing weight, wrinkles etc etc, I applaud you to read this absolutely great blog called –  I Cannot Make You Beautiful by an American photographer, Anne Simone.  The title sounds harsh at first – but it's really awesome reading.  I've actually directed a couple of brides to it in the past, who have then changed their mind about wanting things photoshopped 🙂
Album/Print Questions
Why should I invest in an album?
It's a wonderful feeling to sit together with your friends or family over a coffee and enjoy looking at your wedding photos, in beautiful, timeless print. It's a feeling that can't be replicated, turning the pages of something that you can touch and feel with your hands.
Viewing the images on a screen only will never quite do photos the same justice as print does.
I have my own wedding photos printed in one of the very same fine art albums that I supply to my couples. When I first received it, my wife and I took it over to my grandparents to show them. After we finished viewing our album, I asked my Nana if she still had any of her own wedding photos around. 65 years on from their wedding day, she still knew the exact place in the house where their album was. We then sat down together and slowly turned the pages, listening to my grandparents reminisce about that very day.
Their album only had a dozen photos in it. But they were 12 of the most beautiful wedding photos I'd ever seen.
My albums are hand made right here in Australia, using the finest quality museum grade matte paper, so they are made to last generations, as they should be. Your album cost includes a one on one revision with myself and will not go to print until you are 100% satisfied with the layout.
I realise the albums are a substantial investment and it's easy to say 'we'll get one later on', however, from personal experience I know this rarely happens. Life gets busy, time runs out, and soon enough years have passed and your wedding photos are still sitting on a USB somewhere. I highly recommend purchasing an album up front. I offer an incentive discount of 20% off the album price to pre-purchase this way upon booking.
I can assure you that you won't regret it. It's like seeing your photos for the first time all over again. Album Cost is $1650 up front. ($1980 if purchased post wedding)
Here's what you receive …
• 10X10 Fine Art Album.
• The First 20 Spreads (40 pages)
• Your choice of:
– cloth or leather cover.
– Over 80 different colours.
– your names embossed/foiled on the cover
How many pages are in the album?
The albums I supply are 10X10 (square) and includes the first 20 spreads.  (40 pages)  You can build this album up to 45 spreads (90 pages) if you wish.  The cost is $77 per extra spread.
How many photos will fit in the album?
To maintain a simple and beautiful look, giving maximum emphasis on every each image without looking cluttered, I recommend selecting no more than 80 images for 25 spreads.  Some spreads may include only 1 image, some will include many more depending on the individual images chosen & the design.

What is fine art printing?
The fine art prints I supply are printed on 100% cotton, acid free, museum grade matte paper with a subtle water colour texture.  They are printed on high end machines with a much larger colour gamut than your typical large format printer.  These prints will not turn yellow, fade or crack over time and are designed to look just as good in many many years as the day they were printed.  This can all sound a bit 'wanky' but when you physically see the prints or albums for yourself you will notice a substantial difference between this style compared to other standard prints you may be used to seeing.
Can I be involved in the design process?
Certainly!  Via the online gallery of your wedding, you have the option to 'heart' the images which you would like to add to your album. I can then see which images you have selected and they will then be designed into an album layout. You can then view the layout outline, where you leave comments & feedback until you are happy with the design.  My album fee includes 3 lots of design changes, with additional changes at a $100 fee after that.  Once you are happy with the completed design, you can then chose the colour & material of your album cover and it is then sent off to be printed.   I have dozens of album cover swatches for you at my workspace that you can check out.   Typical turnaround time is about 3 weeks from this point.
Summary
If you've actually got this far.  Thank you oh so much!
I completely understand that some of the above may be a little opinionated at times.  But I promise it's all in the name of maximising your photography, and more importantly, your celebration!  But please remember, it's your wedding and you need to make it a unique celebration of the two of you.  Not what I tell you do to.  Or what your venue tells you .  Or your parents.
Make it your day and I promise you'll be happy.  And as long as you are happy and it's what you want.  I'm happy.
If you have any other questions that are not covered above, please don't hesitate to call or email me, I'm always more than happy to help!