*As mentioned on the previous page; I am entirely in favour and supportive of same-sex marriage. Some of the text below might just be for 'wordings' sake, and I sincerely apologise if I cause any offence or inconvenience by this. This information is just a guide and completely customisable for any couple of any sex, colour, shape or size. If you are planning a wedding that doesn't involve both a 'bride' and a 'groom' and would like to go over some customised plans that don't fit into the 'mould' below, please just get in touch with me, and I'll do my absolute best to help in any way I can.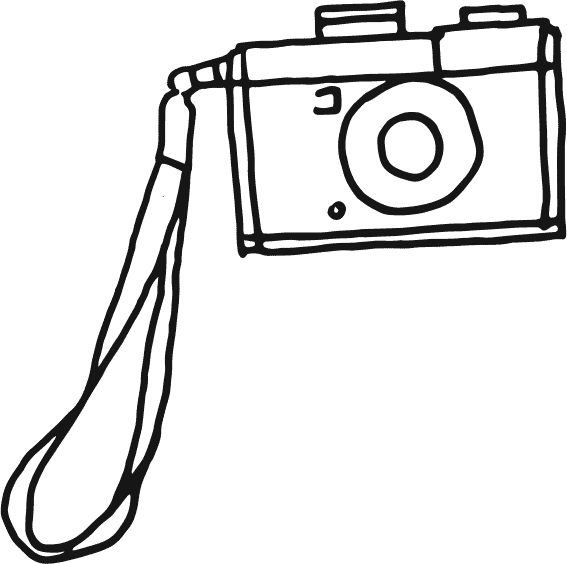 How long do you usually spend at each getting ready location?
In short
Guys, about 40 mins.  Girls, about 60 mins.
It also might seem obvious, but if you want genuine getting ready/preparation photos, please – DO NOT be completely prepared when I arrive. I'm not a huge fan of faking anything for a photo.  For example, if I'm with the guys for 45 minutes, and I arrive and they're already completely suited up and ready to leave – it kind of defeats the purpose of 'getting ready' photos.
Also, you can get ready together.  The last 12 months or so in particular, as people move away from all these 'traditions' on a wedding day – I've seen this happen more and more, and it's rad. I'll chat about this in more detail below, though.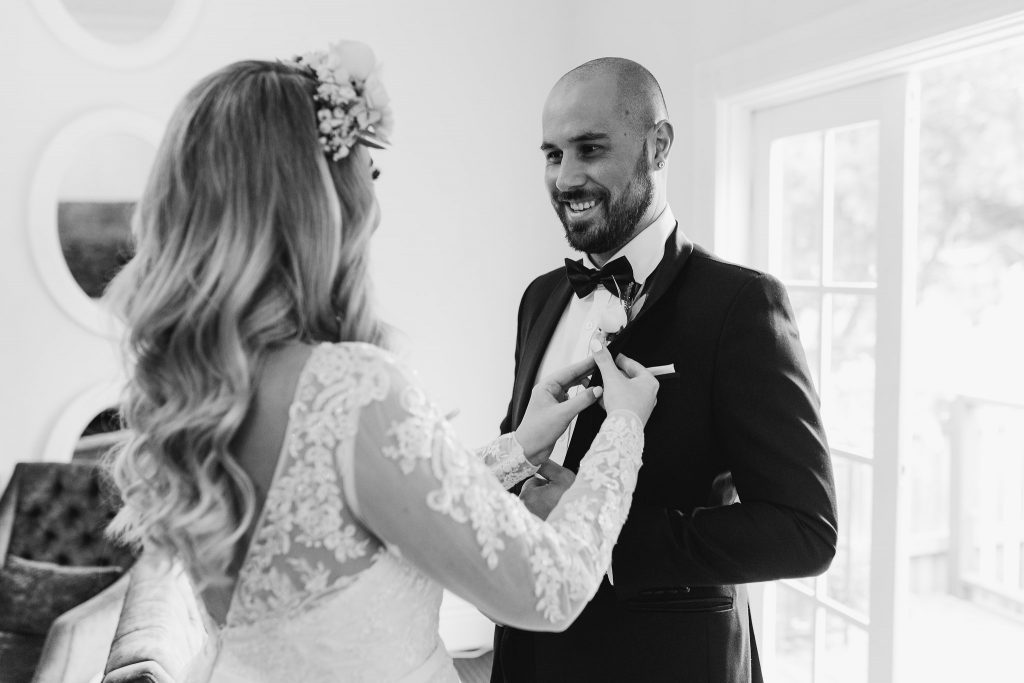 In long:
The Guys – Pretty much all the time, I will arrive at the guys first, as the girls are often working to a more strict time frame of hair and makeup and the guys can efficiently work around this.  I also don't need to be there for hours while the girls are getting their makeup done.
With the guys before photos, there's plenty of options of what they can do here.  The 'obvious' or 'expected' thing for them to do is actually get photos of them suiting up at this time.
That makes sense for a few reasons;
They're leaving to go to the ceremony or first look, not long after the photographer leaves them.
It's a chilly day, so it's comfortable to be in a suit for an extended period.
The parents are there and want a few formal/setup photos together after the lads have suited up.
You want photos of the guys suiting up. (That's the most obvious one, haha)
(So to summarise that part, if you want 'suiting up' photos, don't already be suited up when I get there, haha)
Depending on the location of where the guys are to the girls' property, and the ceremony, this can inevitably leave them with a fair bit of downtime in their suits after I leave.
So there can also be times where it doesn't make much sense having the guys suit up, that early in the day.
It's summer.  Or it's a bloody hot day.  And it's bloody uncomfortable being in a suit longer than you need to.
The guys just un-suit again as soon as the photographer leaves them.
Because of travel or logistics, there's lots of time between when the photographer leaves them, and when they're leaving to head to the ceremony.
The guys would feel more comfortable & natural having photos taken of something else at that time of the day.  (Brewery, pool, backyard cricket, etc.)
There is going to be many photos in their suits for the rest of the day too.  So the more & more weddings I shoot, especially summer weddings – it's becoming more common to just keep the photos super casual at this part of the day.  Such as them just hanging out in their casual clothes, meeting at a brewery or pub, meeting at a park or backyard for a game of cricket, using the pool if your AirBnb has one, etc. The guys are happier, and the photos are more candid and organic because that's what was happening anyway.  They weren't just 'suiting up because the photographer was there.'
I just think, either way, it's nice to be able to hang out with the dudes at the start of the day, introduce myself (and my camera) and get some rad photos to 'begin the story' of the day.
Remembering, as everything suggested on this page – as long as you're happy and comfortable – I am.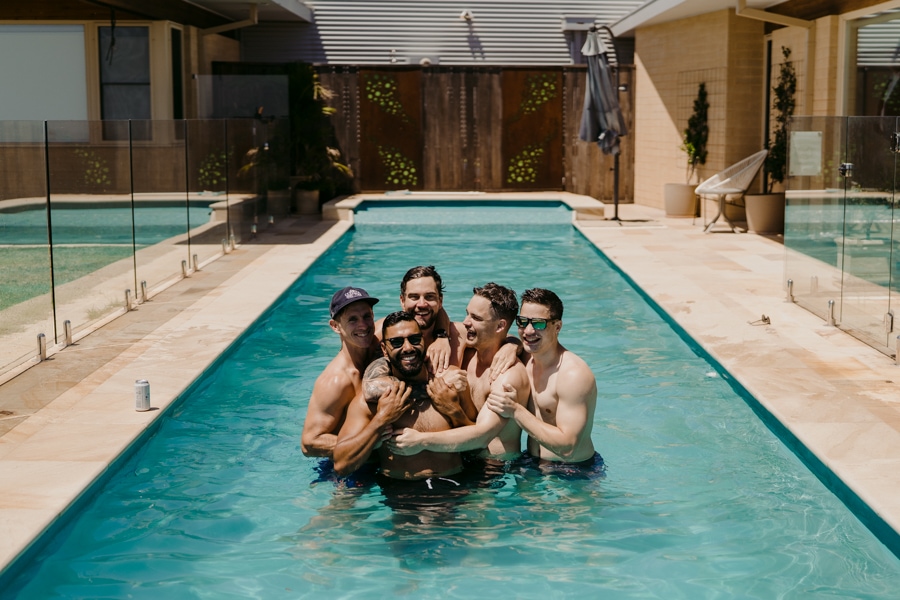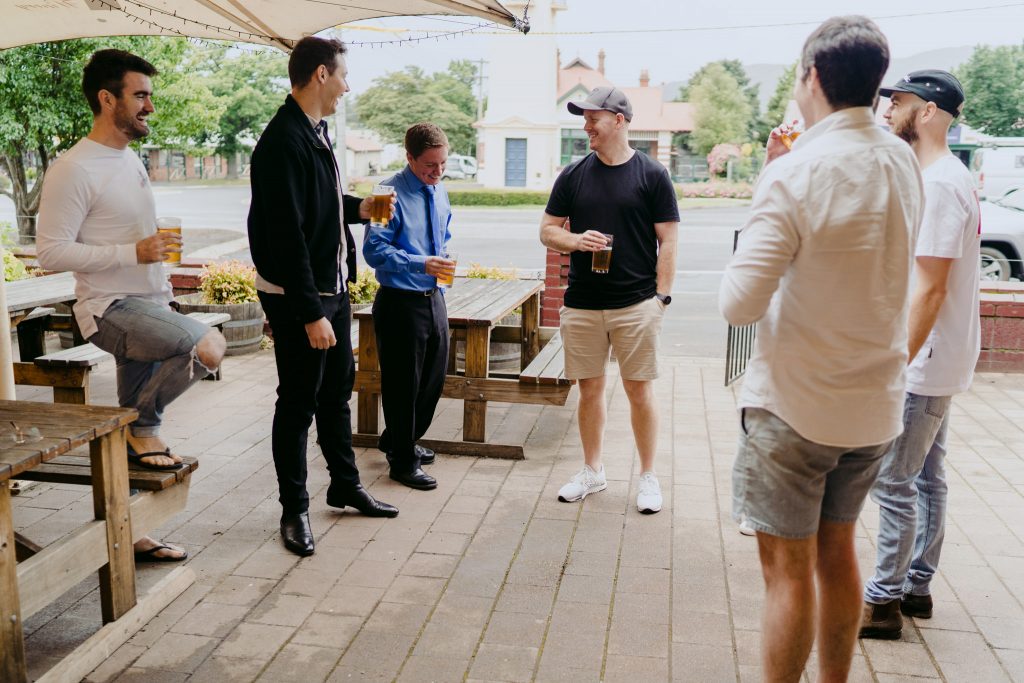 The Girls – I then arrive at the girls getting ready location and ideally the hair and makeup artist is finishing up about the same time I show up. It's fine to get a few photos of this at the start of the day for storytelling purposes, but I don't need hundreds of makeup photos.  And I've never had any bride ever come back to me after a wedding and say 'Briggsy, I wish I had more photos of me getting my makeup done', haha.  Also, it's super important that you hire professional HMUA's who understand weddings and how vital running to a timeline is. I've had scenarios where hair/makeup is even still getting done when the ceremony is supposed to start, and this throws out the entire schedule for the day, big time.  And it's usually always your portrait time that will be the first to get cut down or cut out completely – as not to interrupt the timings of reception meals etc.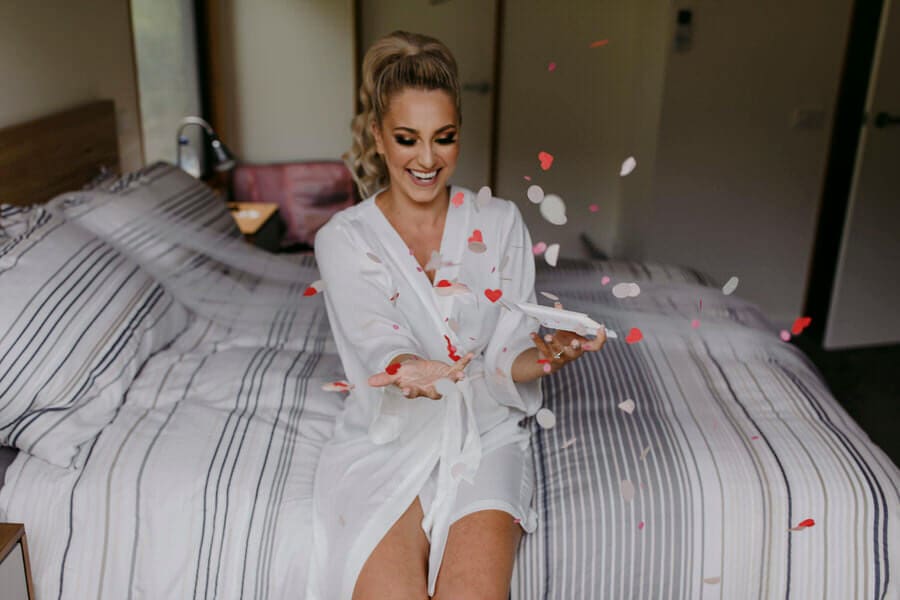 Usually, when I arrive, the girls will often just be wearing casual clothes, dressing gowns or similar.  I can then capture the girls hanging out like this and having a glass or two of bubbles as well.  Sometimes gifts are given during this time too.  Once the bridesmaids get dressed behind closed doors, ideally just one bridesmaid or Mum will then assist the bride in getting dressed.  Once she is comfortable with me/the camera being in the room (every different brides comfort level varies significantly with this. If it's your jam, we can get a couple of tasteful, non-seedy photos – that the groom will love of his bride, from this part of the day too), I'll then capture the candid moments of all the finishing touches of the bride, dress being done up, shoes on, earrings on etc.  Depending on your logistics, it's sometimes beautiful to do a reveal to the bridesmaids (or for Dad) for that 'I'm now a bride!' moment.
A hot tip – if you have a bridal party, assign one of your bridesmaids to be like your 'personal assistant' on your wedding day.  So they should be across all the schedule, they answer all your phone calls, they've got all the suppliers numbers etc. I've seen it all too often when brides just get bombarded by 20 different questions from 10 different people while she's trying to get ready.  And she's as stressed as ever before she's even arrived at the wedding venue.  Let someone else take this weight off your shoulders on the day.  And let yourself be ultra chill/zen.  Think of your wedding day like a 'spa' day.  So by the time you're ready to walk down the aisle, you're the most relaxed and happy you've ever been.
Another tip – buying a cheap arse bottle or two of bubbles to explode, makes for some pretty fun photos too!
Some other things to note about getting ready shots: If you want me to photograph it, it's a great idea to have all the accessories that you wish, collected in the one place when I arrive. That includes jewellery, shoes, dress, etc. Some brides love these types of photos; others couldn't care less.  Either is fine by me; I'm there on the day to make you happy.  If it's important to you, I'll take these shots.  If it's not essential to you, I'd much instead witness & photograph a beautiful moment between the bride and her best friend, or her mum, or Nana etc. That's the real stuff. They're the photos that people will cherish more, many years from now.
In photography, light is everything. It's so important to be gathering/getting ready in nice, big, bright & naturally lit rooms.  In regards to the mess, I'm a bit on the fence about it.  Perfect places look nice, but real and lived-in looks just as lovely too.  Just as long as there's plenty of natural light, we're good.
It's also worth considering who needs to be there during your getting ready photos.  Preparation time can inevitably be stressful. I've had the most chilled out brides in the world becoming ultra stressed during preparations, as a direct result of just being surrounded by too many (well-meaning) people. It's always quietly appreciated if you keep the crowds to a minimum and allow the hair/makeup, photographer/videographer to do the best work they can. There's a direct correlation between how many shoes I see at the front door when I arrive at brides prep, to how stressed or relaxed the bride is on her wedding day.
Also, if you like, remind your friends/parents to just chill out and do their thing.  All the cool shit that happens at a wedding already happens.  I don't need to make it happen awkwardly.  They don't have to worry about looking at the camera all the time if you've booked a Yarra Valley Wedding Photographer who shoots the majority of the day organically. There's always that one bridesmaid who feels she needs to keep coming up with different photo ideas and poses.  I bet you already know who I'm talking about too.
Gifts! If you're giving gifts to each other, your parents, your bridal parties. Try not to do that before I arrive if possible.  Some of the sweetest, most genuine reactions and moments can happen during this time.  And it's so damn nice to capture it. It's always a little shattering when I rock up, and I see there was a super heartfelt or handmade gift given to someone and it's all been said and done before I got to capture the person reaction when opening it.
Pets!  If your dog/cat/bird isn't invited to the wedding, make sure they're at least around for the prep photos!
If you want to start the day as relaxed as possible, consider renting a property as close as possible to your venue. Unless you are 100% adamant that 'I must get ready at this house, which is a 90-minute drive from my ceremony venue in peak hour'.  I would highly recommend investing the extra couple of hundred dollars to be at a location close to your wedding venue.  I've seen chilled brides become stressed on the day, because of the distance they have to travel to their ceremony location.  And if you're getting married somewhere like the Yarra Valley, why not rent a house, and make a whole weekend of it!  Get together there the day before, have a recovery lunch or brekky at the place the day after too! Check out this page on my website, with heaps of amazing pre-wedding Yarra Valley accommodation options.
I also prefer to leave the brides house with enough time, to have me arrive at your ceremony location about 30 minutes before the ceremony starting.