Do you love The Dandenongs and the surrounding hills, ranges & forests; but are looking for a wedding venue in The Dandenongs that's a bit different to the 'norm'?
Here are some unique Dandenong Ranges wedding venues.
LOG CABIN RANCH, MONBULK
What an absolute goldmine of a wedding venue you've got here. Rustic vibes, on-site accommodation, farm animals, surrounded by beautiful bushland AND the option to bring your own choice of catering or food trucks. C'mon; could a Dandenong Ranges wedding venue get any more perfect that this?!
You're surrounded by amazing bushland & landscape. In summer, there's so much shade for everyone to chill under. In winter, romance.

Log Cabin Ranch has the most beautiful heated/air conditioned indoor barn/chapel for your ceremony location. Perfect for any time of year. Easily holding north of 100 people.
Or an amazing outdoor ceremony area, surrounded by native bushland.
Did I mention you can bring any caterer or food trucks if you like? You can even choose your own tap beer, if that's your thing. This allows you to make your wedding, truly yours. And typically speaking, you save a fair bit of cash using external catering compared to using all on-site supplied.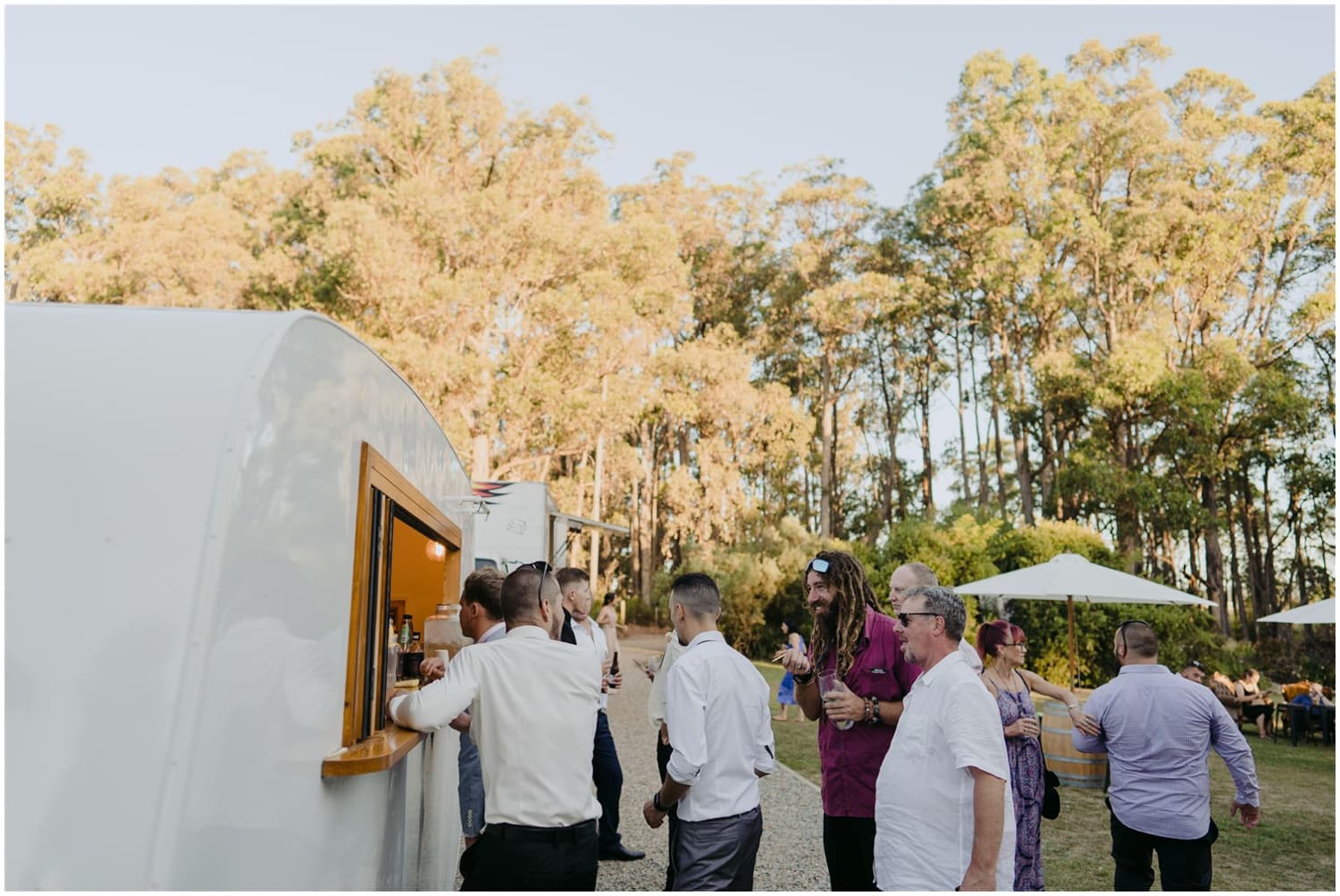 There's even a rad donkey and deer on site. Who doesn't love donkeys and deer!? #nodeerforamonth
Awesome sunsets and locations for your couple portraits.
Followed by eating, drinking and dancing the night away. Under the afternoon sun & stars.
THE INDEPENDENT, GEMBROOK
This venue is an absolute hidden gem in The Dandenong Ranges. The Independent is just across the road from the old Gembrook train station, where Puffing Billy finishes. Surrounded by amazing forests, parks & bushland, your spoiled for choice with photo opportunities here too.
The venue features a sweet little courtyard out to the side of the restaurant where the ceremonies can be held.
The Independent is an absolute food lovers dream. The Argentinian inspired menu will have all your wedding guests mouth-watering and wanting more. Upon visiting Australia in 2019, Charlie Hunnam (aka, Jax Teller) even visited the restaurant and left rave reviews.
The nearby Gembrook train station provides some sweet and unique photo opportunities too.
YARRA RANGES ESTATE, MONBULK
I was weighing up between placing this venue in my Yarra Valley category, or here on The Dandenongs page.  I settled with here, because you do have the best of both The Yarra Valley and The Dandenong Ranges here at Yarra Ranges Estate. The beautiful forests and trees surround you are what The Dandenongs are known for. But, you also have fantastic fields, wide-open spaces and vines that are quintessential to The Yarra Valley.
The property features are beautiful forest bush area down the bottom of the hill, perfect for an intimate ceremony. Weather permitting, of course.
And canapes down amongst the trees!
Or the more accessible location for their ceremonies is at the top of the hill by the venue. It is overlooking the forest, vines and fields. Beautiful.
Amazing locations for your couple photos amongst the vines or in many of the nearby forests.
The reception room inside is also one of the more sizeable ones in the area, catering for over 150 sit down guests if needed.
And plenty of room to bust a move!
FOREST EDGE, GEMBROOK
An amazing venue in The Dandenong Ranges, wide open fields and beautiful native forests. Plus, views for days. So much to love.
SWALLOWFIELDS, GEMBROOK
Swallowfields in Gembrook is just picture perfect every corner you turn. Set on 150 acres with bushland, vineyards, lakes and pine forest – your options for a ceremony or couple photos are endless.
Allowing you the option of bringing your choice of caterer, for up to 100 sit down guests, or 130 for a cocktail wedding – you've got plenty of fantastic opportunities here.
Especially stunning in autumn, have a look at this place!